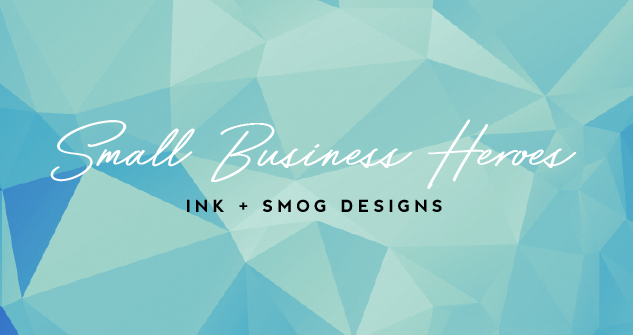 I've been designing various things for folk for years now, but I never put much thought in to making a career out of it. Recently however, I've found myself in a pretty cool place – Finally knowing what I want from my designs. I've thought about designing cards for a while now, but never thought it possible. When I got asked to design a friend's wedding invite a while ago I was excited and loved the process of it, just to be a part of such an important day felt amazing. A few lovely bloggers had said that my designs were great and I should really think about pursuing the greetings card idea. However, it still didn't click until I started designing two wedding cards at the end of May, one for Joni and Joe and one for Peter's cousin Ermanno and his new wife Rebecca. What a buzz there was doing it and now I know I can do this!
So now it's a case of finding and evolving in to the type of business I want to be and for that I've been looking for inspirational folk to learn from. There are so many talented artists out there that inspire me and one day I hope to find myself among the ranks of these incredible people. So without further ado I want to introduce one of my most recent finds:

I came across Ink + Smog through Julie Ann Art (who I will definitely be blogging about in the future). I was on Rosemary and Robin's
Etsy store
for five minutes before I decided I
HAD
to have something of theirs in our home! I have a gallery planned for our hallway and I'll be framing these cards up to be part of it.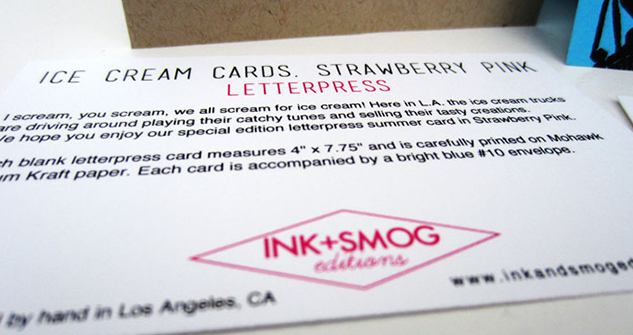 The thing that struck me most when my parcel arrived was how personal it felt. Each card had a little bit of history and information with it including how it was made and what from. I loved this idea and have never had anything like it before. It makes you as a customer feel valued and a bit special and is definitely something that I appreciate.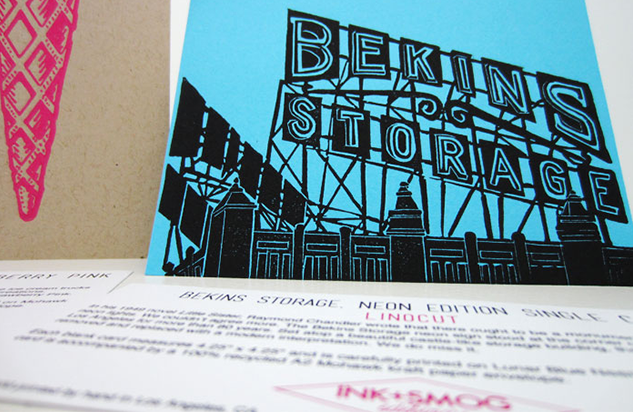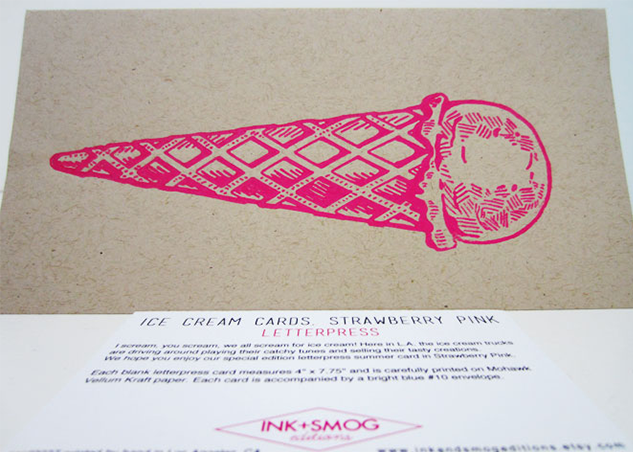 The cards themselves just make me think of summer and as we have very short summers in Scotland (usually, I don't know what the hell's going on this year) bright colours are something I find myself craving. I also want our home to have a bright fun feel and getting that across in the art we have is perfect for two folk who appreciate all things creative!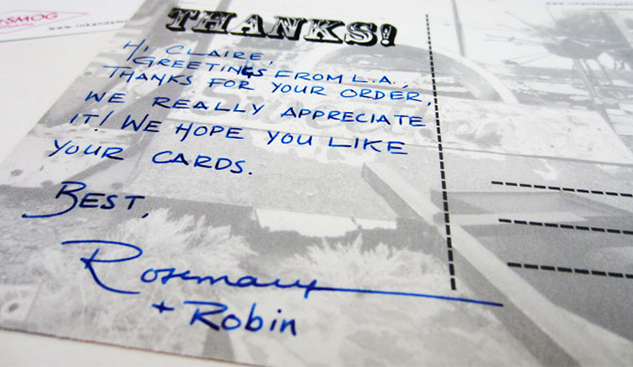 I've worked in customer service in some way or another since I was 16 and although I've moaned in the past about it there is nothing better than putting a smile on someone's face with something you have done. This is why I really loved the postcard that came with my cards. The fact that Rosemary and Robin took the time to write a short note especially for me meant the world. My inner customer service geek, yes that is a thing, was smiling from ear to ear.  I truly hope that when I get my own store sorted I can make my customers feel as special as Rosemary and Robin made me. Thanks so much guys and I'll be posting pics of our finished gallery when I finally paint the hall!
You can find Ink + Smog here:
Blog | Etsy | Facebook | Twitter
No go check out their links and get some Ink + Smog goodies for your home – their cards are too pretty to give away!